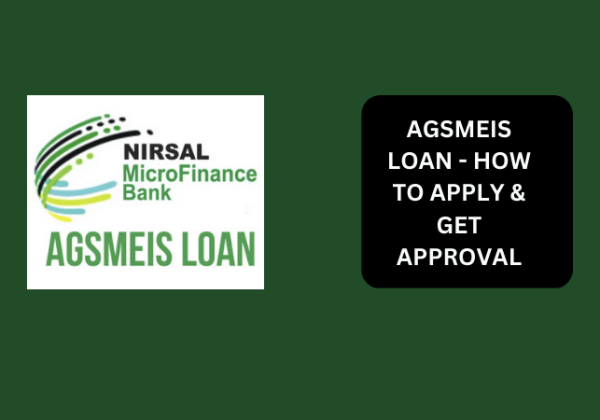 AGSMEIS loan is a loan created by the federal government under the ministry of agriculture to be given to farmers involved in large-scale farming.
There are a lot of farmers that are into farming, but on a large scale and small scale, most of them don't have the needed resources to take their farming business to another level; the federal government of the country has heard their cry, this is why this loan was made available to them.
In this article, we will discuss extensively what this loan is about, businesses that are eligible to apply, requirements, and, most significantly, we will answer some of the most frequently asked questions. Stay tuned and pay close attention.
Overview of AGSMEIS
The central bank of Nigeria offers loans through different microfinance banks to give a loan at meager interest to farmers and other small to medium-sized businesses.
The AGSMEIS stands for Agri-Business/small and Medium Enterprise Investment Scheme) the main aim of this board is to help the federal government enact policies for the regulations and growth of agriculture majorly before other small to medium size businesses.
The loan application process is very easy, and you can obtain a quick loan on this platform to help you grow your business and take it to another level.
One of the most critical factors you must have in mind is that you do not need collateral to obtain a loan from this platform to grow your business; this is one of the primary reasons why many business owners and farmers go for this loan.
Furthermore, the repayment plan of this loan is very flexible and easy to the point that any farmer can repay the loan borrowed on or before the agreed period. Having discussed briefly what this loan is all about, let us discuss some documents you need to obtain a loan on this platform.
Documents Needed to Obtain AGSMEIS Loan
In this section of this article, we have listed completely some of the documents you need to obtain a loan from this platform. You need all the documents below; missing one will lead to disqualifying your loan application process. Some of the papers are;
Duly Completed AGSMEIS Loan application form.
A working Bank Verification Number will be used to check through the information provided in your application to know if it corresponds with what you have on your BVN.
Certificate of Training from any authorized Entrepreneurship Development Institute (EDI) or any proof of membership in any farmers' cooperative society.
A letter of recommendation from someone of authority, which could be a priest, district chief, village head, or anyone with influence. Note that this recommendation letter is only for civil servants and small businesses.
Proof of your business name registration and the registration certificate
Your Tax Identification Number, which is also known as (TIN).
You must note that for you to qualify for this loan, you are required to have completed your training from any NIRSAL-verified Enterprise Development Institute in the country; if not, your loan application process will not be accepted.
Only after completing this course can you obtain a loan from this platform. Your training institute will send the form to the CBN, after which the CBN will verify your account details through your local bank, and if it corresponds, you will be given the loan.
Read Too – NG Cares Loan — How to Apply for a Business Loan
You must provide all the needed documents as requested; missing one will automatically disqualify your loan application process.
However, not all businesses are eligible for this loan, and we will discuss some of the companies that are eligible for this loan next, stay tuned.
Businesses that are Eligible For this Loan
Creative and Art Industries
Fashion and Beauty
Agricultural and Allied processing
Industrial and manufacturing
Apparel and Textile industry
Information and communication technology
Automobiles
Telecommunication
Hospitality
Media and publishing
Catering and Event Management.
If your business falls under any of the categories below, you can apply for this loan. This has shown us that this loan is not only applicable to farmers alone; individuals, too, whose businesses are under this category are eligible to apply.
How to Apply For an AGSMEIS Loan
We've discussed some of the documents required in the loan application process; next, we will discuss how to apply for this loan. Note you are eligible to apply for this loan only when your business falls under one of the categories listed above.
Here's how to apply for the loan in a step-by-step process
One of the first and foremost requirements is that you must have completed training with any NIRSAL MFB- authorized Entrepreneurship Development Institute (EDI); this is one of the requirements that makes you eligible to apply for the loan.
The next important thing you need to do is to create a personal account with the loan platform. To do this fast, you must visit the AGSMEIS official website, agsmeisapp.nfmb.com.ng. You enter the site, see an icon, 'apply now' click on it, and start your registration process. During the registration process, you must provide your BVN and choose the NIRSAL-authorized Entrepreneurship Development Institute ( EDI) you attended.
The next thing is to follow through with the registration process and loan application process; when choosing the category of loan you wish to take from the platform, you must select a class that is flexible for you that will enable you to pay back within the agreed period.
After your application process, you will have to wait to get feedback from the platform; if you qualify for the loan after they must have accessed you, you will receive the money immediately in your account. But if you don't qualify, you will have to wait to get feedback from the platform as to why you're not qualified to obtain a loan.
The Interest Rate of this Loan
The interest rate for the AGSMEIS loan is meager, which has made many businesses benefit from the platform; the interest rate of the platform is 5% per year, which means that when you obtain a loan from the forum, you will have to pay back the loan with interest at the end of the year.
How To know if your loan Application Was Approved
Furthermore, if you apply for this loan and the platform approves your loan, one of the ways you will know is that the forum will send you a text message with a link that directs you to the NMFB portal; once on the site, you need to do the following;
Follow the link above, and select the kind of loan you applied for during your application process.
Next, you need to verify your account, and this is done by inputting your BVN. Note that your BVN must be inputted correctly; immediately after doing this, a confirmation message will show on the next page if your loan application was approved.
Immediately after the loan platform approves your loan, the next thing that will be required of you is to provide your Bank account details for disbursement.
How To Contact AGSMEIS
To contact the loan platform fast, you can follow any of the methods below
Address: House 1, Plot 103/104 Monrovia Street, Wise 2, Abuja
Email Address: info@nfmb.com.ng
Website: agsmeisapp.nfmb.com.ng
Phone Number: +2340704180003
Frequently Asked Questions
How long does it take to get the Agsmeis loan?
One thing that makes this loan platform unique is that the entire process is automated; from the loan application submission to disbursement takes about 6 to 8 weeks.
What is the maximum amount for the Agsmeis loan?
The maximum amount for a collateral-free loan under this platform is 10 million Naira, which is given to help you find your business or your business idea through the AGSMEIS LOAN SCHEME by the federal government of Nigeria.
Is the Agsmeis loan still ongoing?
The AGSMEIS LOAN application process is still ongoing, and you need to know that the loan application is free; you don't need to pay any application fee, just read through this article and apply.
Conclusion
We have come to the end of this article. We are confident that it was helpful to you on how to apply for AGSMEIS loan.
Do you have any questions? Do well to share that in the comments section.