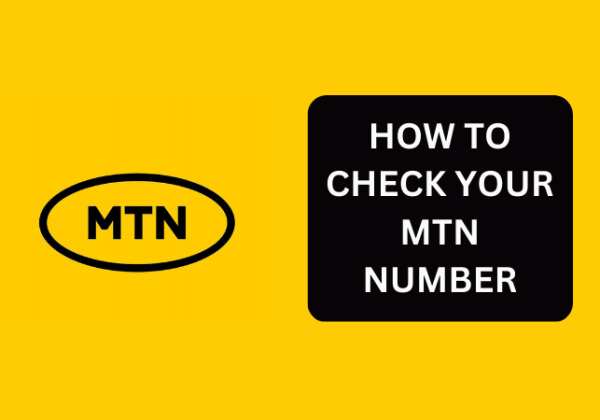 Over the past three decades, MTN has been the best and leading network in Nigeria. They have the highest number of subscribers, mainly because they were the first established network when cell phones came out in Nigeria.
Due to many subscribers and the importance of having your number off heart, we have put together this article to teach you five ways to check your MTN number quickly. Enjoy the ride!
Overview
With the advancement of technology, most phones produced have double sims. And most times, when this is needed urgently, most people cannot come up with their phone number quickly. This is the essence of this article; to teach you how to check your MTN number online.
This way, you wouldn't have to worry about memorization. Stay tuned, and you will learn the five methods of checking your MTN number online; one of the benefits of these methods is that it is easy, and anyone with little internet knowledge can easily access their MTN number online.
How To Check Your MTN Number
There are several ways to check MTN Numbers online. In this article section, we will discuss some of the best and most efficient ways to check your MTN number online.
Some of the methods of checking your MTN number online are;
Code to check MTN number
MTN self-help service
Request call back
Call your friends
Use customer service
USSD Code To Check Your MTN Number
Just like most other Nigerian telecommunication companies, the MTN company has made it possible for anyone to check their phone number quickly online.
The MTN company is one of the most popular telecommunication companies in Nigeria, with a committed heart to serving the masses.
With the USSD code, you can quickly learn and memorize your phone number and bring it out whenever needed.
To check your MTN number using a code, you need to dial *123#; this will bring out many options for you, and from there, you can choose a check number.
When dialing this number, make sure you're dialing it with your active MTN number; once this is done, you will be opened to a welcome option; you will see an option showcasing "my number" click on it and your phone number will be displayed immediately.
However, if you want to dial a USSD code directly without checking or choosing any options, you can use this code; *123*1*1# on your active MTN number or use *663#. The phone number will be displayed on your screen immediately.
MTN Self-service
MTN offers a self-service portal allowing people to transact or do anything on the MTN platform.
This self-service portal is usually available every day and at every time. Efficiency is one thing that has set the MTN platform above other telecommunication networks and companies in Nigeria.
To access the MTN self-service, you need an active MTN number and a PIN to log in. Another option is to download the MTN self-service mobile app on the play store and install it directly on your phone.
This is how it works, you can text a short message 'Care' to a quick number 5018, and immediately you will get a response with a link that will send you to the application on the play store, the name of the app is called myMTN App.
Instead of sending a code to MTN, you can go to the Google play store and search for "my MTN app," download it directly and start using it. With the app, you can perform many MTN activities, of which checking your MTN number is included.
Read Also: How To Check GLO Data Balance
Request Call Back
This is another and one of the most effective methods of checking your MTN number online. The MTN telecommunication network has a built-in model that offers call-me-back features, and one of the things that makes this unique from most other telecommunication networks in Nigeria is the fact that this feature is free of charge.
To do this, you must dial *133# and follow suit. After dialing this number, different options will be displayed, and you can choose the call me back option; the platform will call you back, and you will see your number.
This is one of the most efficient ways people check their MTN numbers. It is easy and completely free of charge.
Call Your Friends
You can effectively use this method, but other ways listed above are better under emergencies; when you want to check your number to memorize it at leisure, you can use it.
The call-your-friends method requires you to call any of your friends, your phone number will be displayed there, and you can tell them to call it for you so that you can write it down on a piece of paper to memorize it later.
But one of the things that have made many people not use this method under an emergency is the fact that this method is not free of charge, you need to have airtime in your phone for you to execute this method, and in a situation where you don't, it will not be possible to check your MTN number using this method.
Use Customer Service
This is another and most effective method to check your MTN number. This method is free, and the MTN companies have made it possible for people to access their customer services easily, it is free and convenient for people to.
To access customer service, you need to visit the official MTN site and go through the site; you will find different features on the site then you can choose the one you want; you can select the icon "check my MTN number" immediately you click on it, your MTN number will be displayed and you can either copy or memorize it.
Furthermore, you can equally use customer service directly on the website; what this means is that the customer service icon is similarly found on the website, and when you click on it, you can see your MTN number.
But one of the things you must note in using customer service is the fact that you must have a strong data connection and you must have data on your phone.
Most people prefer to use MTN customer service because of its convenience and, most significantly, because you can do so many other things using customer service.
Frequently Asked Questions
Can I check my MTN number using another method?
The above-listed methods are the best methods you can use to check your MTN number, there are other methods, but these are the most efficient and effective methods available.
Can I Dial A USSD Code if I don't have airtime?
No, you cannot; dialing a USSD code entails having airtime; without airtime, you cannot perform actions using the USSD code method. But if you want to dial a USSD code without having airtime on your phone, you will need to borrow airtime.
The MTN mobile telecommunication network has allowed anyone to borrow money from the platform provided you do not owe them.
Through this method, many people can either borrow from the platform and use any of the methods above to check their MTN number or through customer care service.
But if you don't have airtime and you're still owing the platform, you will not be eligible to borrow from the venue or perform any operation that requires the need to dial a number
Can I use two MTN sims on one phone?
Provided there is provision for you to slot in your two MTN sims, you can comfortably use two MTN sims on one phone.
Conclusion
We have come to the end of this article, and we are confident that you know how to check your MTN line using any of the five methods we listed above.
We advise you to go back to the article and re-read it carefully so you can grab the whole concept fully. Meanwhile, we are in the comments section to swiftly answer your questions if you have any.