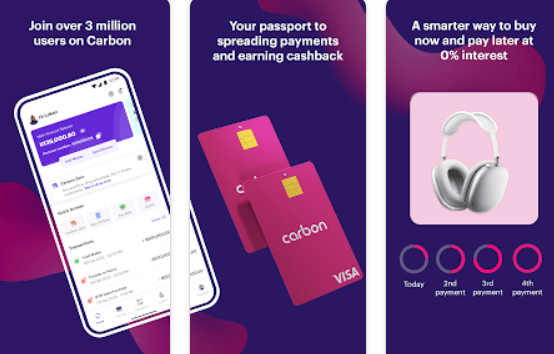 Getting a Carbon loan using remita has become one of the easiest and most secure ways of receiving loan amounts from Carbon. But how can you receive loans from Carbon using Remita? This article provides the answer.
Carbon, formerly known as Paylater, is a popular online lending platform in Nigeria that provides access to instant loans for individuals and small businesses. Remita, a financial technology platform in Nigeria, can be used to manage the loan disbursement and repayment process.
This blog post will explore the steps in getting a Carbon loan using Remita and how this platform can help streamline the loan application and management process. Whether you urgently need funds for personal or business expenses, this guide will provide you with a comprehensive guide on how to access and apply for instant loans on Carbon using Remita.
About Carbon Loan
Carbon is an online lending platform that provides short-term loans to individuals and small businesses in Nigeria. The platform has become increasingly popular in recent years due to its ease of use and quick loan disbursement process. With Carbon, borrowers can apply for loans online and receive loan disbursements within minutes.
Carbon loans are designed to meet the immediate financial needs of borrowers, including emergency expenses, school fees, medical bills, and other personal or business expenses. The loan amounts offered by Carbon typically range from N10,000 to N500,000, with repayment periods of up to 12 months.
One of the key features of Carbon loan is the ease of access to funds. Borrowers can apply for loans online using their mobile phones or computers, and loan disbursements are made directly to their bank accounts. The platform uses a proprietary algorithm to determine borrowers' creditworthiness and assign loan amounts and interest rates. This means that borrowers can access loans without collateral or a guarantor.
Another important feature of Carbon loans is the competitive interest rates. The platform offers lower interest rates than those offered by traditional banks and other lending institutions. This makes Carbon loans attractive for borrowers looking to save on interest costs.
Carbon loans also come with flexible repayment options. Borrowers can repay their loans in monthly installments or make a lump-sum payment at the end of the loan term. The platform also offers a grace period of up to three days for missed payments, giving borrowers some breathing room in case of unexpected financial challenges.
How To Get a Carbon Loan
Follow the steps below to obtain a Carbon loan
Register to provide all the details. Name, phone number, email, etc
Upload your photo before you can access loans. The picture can be taken directly from the App.
Click on the "Request a Loan" button.
Wait for your loan approval. This usually takes only a few minutes.
After loan approval, you accept the offer and provide your card details. Usually, the loan duration ranges from 30 days to 12 months.
How to Create an Account on the Carbon Loan App
Creating an account with Carbon is a straightforward process. Here are the steps involved:
Step 1: Download the Carbon app
The first step in creating a Carbon account is downloading the Carbon app from the Google Play Store or Apple App Store. Once downloaded, install the App on your mobile phone.
Step 2: Open the App and click on "Sign Up"
After installing the App, open it and click the "Sign Up" button. You will be prompted to provide personal information, including your full name, email address, and phone number.
Step 3: Verify your phone number and email address
After providing your personal information, Carbon will send a verification code to your phone number and email address. Enter the verification code to confirm your phone number and email address.
Step 4: Create a password
Once your phone number and email address have been verified, you will be prompted to create a password. Choose a strong password that you can easily remember but is also difficult for others to guess.
Step 5: Set up your profile
After creating your password, you must set up your profile by providing additional personal information, including your date of birth, home address, and employment status. You will also need to provide your bank account details, which will be used for loan disbursements and repayments.
Step 6: Submit your application
After providing all the required information, please review your application and submit it. Carbon will review your application and notify you of their decision within a few minutes.
Once your application has been approved, you can use the Carbon Loan  App to access loans, make payments, and manage your account. Creating a Carbon loan account is quick and easy and can be done using your mobile phone in just a few minutes.
Carbon Contact Details
642C Adeyemo Alakija Street, Victoria Island, Lagos
Tel: +01 631 1215;
Emails: ghanacs@getcarbon.co
About Remita
Remita is a financial technology platform in Nigeria that enables individuals and organizations to make and receive payments from different banks and financial institutions. Owned by SystemSpecs, Remita provides payment processing, invoicing, and payroll management services. It is a centralized platform that facilitates financial transactions and helps to streamline financial processes.
Remita Data Referencing service uses an Application Payment Interface (API). With the company's APIs, lenders have their details, such as the customer's payment history, net salary, employment history, and confirmation of the prospective borrower's loan profile.
With Remita Data Referencing, partner lenders such as Carbon have expanded their loan portfolios and now lend safely to employees of large firms and SMEs that deploy the Remita platform for payroll processing and salary payments.
Remita offers the following services:
Debit/Credit cards.
Merchant's website.
Internet Banking and loans
Point of Sales Terminals (POS).
Mobile wallets.
Standing order/ Direct debit.
Bank Branches.
Remita Mobile App and website.
Remita Loan
Remita, a financial technology company in Nigeria, has partnered with three reputable financial institutions to provide easy loan access for customers. The partnership aims to provide quick and convenient loans to individuals needing urgent financial assistance.
Access PayDay: Access PayDay is a loan product powered by Access Bank that allows customers to obtain loans from their salary account before payday. With Access PayDay Advance, no guarantor is required. This loan option is ideal for individuals who need quick access to funds to settle pressing needs before payday.
Carbon: Carbon PayLater is a mobile application available for download on Google Play and Apple Store. With Carbon PayLater, customers can obtain a loan within five minutes without collateral. The loan product is ideal for individuals who need quick access to funds for emergencies or other urgent needs.
Page: Page is a financial institution regulated by the Central Bank of Nigeria that provides quick loans of up to N5 million in less than three hours. In addition to providing loans, Page also offers investment opportunities and payment services through their platform. This loan product is ideal for individuals who need quick access to funds for business or personal purposes.
How to Create An Account on Remita
To start enjoying Remita services, you need to create a personal account that allows you to:
Become eligible to access third-party loans after a few months of transactions.
Immediately empower your customers to pay you from your website, App, or bank branch.
Pay all your bills and send money to family and friends from ANY of your bank accounts.
Process payroll, taxes, and pensions for all your staff and make payments to their various accounts across all banks.
To create a Remita account:
Visit Remita website
Click on Sign up.
Provide details such as first and last names, phone numbers, and email.
Type in the verification code sent to the phone number you provided.
You will be sent a confirmation message to your email, welcoming you to the platform. The confirmation message also contains your username and password.
Remita Mobile App
You can download the Remita mobile application for easy access to their services and more convenience. The App is available on Google Play Store and the Apple store. The App allows you to:
Manage your transactions and expenses.
Generate transaction receipts.
Make payments and transfers.
View account balances.
Request payments through electronic invoices.
Manage your standing orders.
How to Get Carbon Loan Using Remita
Carbon is one of the financial institutions in Nigeria that have partnered with Remita to make loan disbursement and repayment easy for borrowers. It is the safest and most secure way of managing Carbon loans.
To know how to get a Carbon loan using Remita, follow these steps:
Visit Remita website
On the secure, easy, and quick loans page, you will see the various financial partners of Remita, including Carbon (although the name you will see is Pay Later).
Click on the "Get loan" button under Carbon.
You will be taken to the Carbon Loan website to apply for the loan.
After your loan is approved, it will be disbursed into your account.
Repayment of Carbon Loan Using Remita
To repay the Carbon loan using Remita, follow the steps below:
Go to remita.net
Select the icon 'Pay a Biller.'
Select the option 'Pay E-invoice.'
Enter the RRR
Fill in the required details and click Submit
Remita Contact Details
Office Address: Plot B22, Yesufu Abiodun Oniru Road, Oniru.
Tel: +234-1-6367000, +234700-7877678
Email: support@remita.net
Frequently Asked Questions
Can I Repay Carbon Loan Using Remita?
Yes, you can use Remita to repay Carbon loans.
What are the loan sites linked to Remita?
Carbon is among the loan sites linked to Remita.
Can I extend my loan on Carbon?
No. Carbon does not allow borrowers to reschedule loan repayment dates.
Does Carbon give instant loan?
Yes. Carbon offers instant loans as soon as the loan requirements are met.
Is the Carbon loan app approved by CBN?
Yes. Carbon is a Microfinance Bank licensed by the Central Bank of Nigeria (CBN) with deposits insured by the Nigerian Deposit Insurance Corporation (NDIC).
Bottom Line
Applying for a Carbon loan using Remita is a straightforward process that requires you to have an active Remita account and meet the requirements. With the steps outlined in the application process, you can complete your loan application quickly and receive your funds promptly.
However, it is important to ensure that you borrow only what you can afford to repay and read the terms and conditions of the loan carefully before signing up.