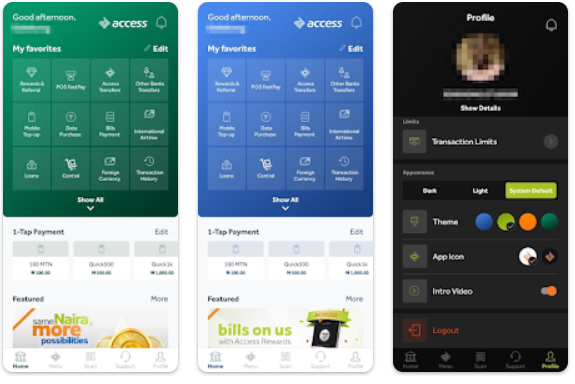 – Access Bank Loan: How to Borrow Money From Access Bank, Requirements, and the Ussd Code Option –
Some of us dream of changing the world, building solutions to problems that can make lives better. Yes, that big idea. And you suddenly feel the need to make it work, that one step to take that dream to the next level.
You need access to information, access to the market, and access to funding. Funding is a challenge, a stumbling block to businesses.
It is where many businesses fail because there is no support to succeed. The same applies to individuals.
Well, one bank is out to help individuals and businesses to succeed by offering them funds to help bring their dreams and aspirations to the limelight.
That one bank is Access Bank. The bank in its bid to help both its customers and noncustomers created the Access Bank Loan for different business sectors and personal problems.
The Access Bank loan pricing is fantastic, the tenor is great and in some cases, collateral is not required. Even noncustomers can also access these loans. Isn't that cool?
Before we talk about how to apply for Access Bank loans, let's quickly take a look at the different types of loans available in Access Bank.
Types Of Loans Available In Access Banks And Their Requirements
There are different kinds of loans offered by Access Bank. Below are the top loans:
Personal Loan
The personal loan offered by Access bank is aimed at helping salary earners during emergencies. This is achieved by salary administration products. The tenor for this loan is usually 36 months.
Requirements:
Get your Bank Verification Number (BVN) ready. An application form, a letter of confirmation from your employer, and other relevant documents.
Small Ticket Personal Loan
This type of Access bank loan allows you to borrow to a great extent, which is more than (400%) of your overall monthly income (salary). The repayment plan is convenient and the tenor is 12 months.
Requirements:
You need the following;
A valid phone number.
A statement showing you got your salary in the previous months.
And your Bank Verification Number.
Salary Advance Loan
The salary advance loan is somehow similar to the small ticket personal loan, however, the is simple. You can borrow 400% of your net monthly salary while in a salary advance loan, you borrow 100%. It is easy and paperless. You are also expected to repay the money within 3 months.
Read Also: Zenith Bank Loan App
Requirements:
Be sure you are a salary earner, get your Bank Verification Number (BVN) linked with your phone number and you are on your way to having the loan issued to you.
Creative Sector Loan
If you are looking forward to building something in the creative sector, then this type of loan is for you.
This is backed by the Central Bank Of Nigeria (CBN). All you have to do is to majestically walk into the nearest Access Bank office and get things done.
Requirements;
To access the creative sector loan, you need to present your business plan to the bank in which how much you need and what you have at hand are well stated.
W-Power Loan
The W power loan is next on our list of Access Bank loans. It is specifically designed for businesses owned by females. With this loan, female-owned businesses can expand to move toe to toe with their competitors.
Requirements
To be eligible for the W power loan, your business should not be less than one year and your staff should be at least two.
Above all, it must be owned by females.
Lending Against Turnover (LATO)
This is another loan that does not need collateral or documentation to access. It takes about 30 days for its repayment plan.
To be eligible for this loan, you must have an account with the bank which should not be less than six months.
You can get this loan from the bank or you apply with the bank's USSD code *901*11*1#.
Requirements:
You need your Bank Verification Number (BVN) and a valid phone number linked to it. Again, you should be able to prove that you received a salary in the previous month.
Device Finance
If you are in urgent need of mobile devices but lack the fund to get them, Access Bank has made provision for a device finance loan to help you acquire your dream device.
Requirements;
Your Bank Verification Number, application letter, and form are needed. Also, you need to show your credit balance history.
Maternal Health Service And Support
Just like the name implies, this loaning scheme is designed to help with emergencies as regards health, especially births and fertility. Couples can always go for this.
Requirements:
You will be required of your BVN, phone number, medical reports, an application form, and other relevant documents.
Vehicle Finance
Vehicle finance is a loan set aside for individuals and businesses that would like to acquire vehicles like cars for the smooth running of their businesses or personal problems.
This particular loan lasts for 48 months and you are allowed to make your choice of purchase from different vendors.
Requirements:
You need to get your BVN, and utility bills ready. The utility bills should be at least three months.
Advance For School Fees
This type of loan is an advantage for parents and guardians. With it, you can pay your children's school fees. This way, you won't have them sent out of school. You can also go for this loan when there is a need for scholarship funding and other educational certificates.
Requirements:
To access the advance for school fees loan, you have to do the following;
Show your utility bills at least for the last three months.
The school fees invoice. The loan will be paid to the school directly.
You also have to submit an application letter and fill out a form.
Your BVN and a valid ID card.
How To Pay Back My Access Loan
Paying back the money you borrowed from Access bank is not a big deal.
Most Access bank loaning schemes are with monthly repayment plans. They automatically deduct that from your account.
However, in cases where you fail to comply with their terms and conditions, they may sell off the collateral or increase the interest rate.
This does not only apply to Access Bank, Zenith Bank and other reputable banks stick to this.
The bottom line is you, taking responsibility for your actions by endeavoring to pay up your loans timely to avoid pressure and extra charges.
Moreover, timely repayment increases your chances of getting loans in the future.
Frequently Asked Questions About Access Bank Loan
How Do I Borrow Money From My Access Account?
You can borrow money from your access bank account even if you don't want to go to the bank. Just with your mobile phone using the USSD code.
To do this;
Insert your verified phone number into your phone. Mind you, this phone number must be linked to your bank account.
Then proceed to your call bar, and simply dial the Access Bank USSD code which is *901*11*1#. Again, make sure that the network is not fluctuating.
After dialing the code, send and wait for the instructions. Kindly follow the instructions and have your loan sitting pretty in your account.
What Is The Code To Borrow Money From Access Banks?
To get an instant loan from Access bank then you have to consider the Access bank payday loan. To access the PayDay loan, dial this USSD code *901*11*1# and then proceed further by following the instructions on your phone screen.
Can I Borrow Money From Access Bank?
Yes, you can borrow money from Access bank provided you have a bank account with them. With that, you are qualified to borrow 75% of your credit balance.
Can I Get A Loan From Access Bank Without Collateral?
Yes, you can get a loan from Access Bank without collateral. You can do this through any of the following;
Access bank WhatsApp banking, QuickBucks App, Access Bank mobile app, and  PayDay Loans.
What Happens After My Loan Is Approved?
After your loan is approved, you get it disbursed into your bank account within 24 hours of approval. In some cases, you'll be required to show some applications before you can withdraw the money from your account.
What Happens When I Don't Pay Back My Loan?
There are usually terms and conditions for every loan, which were made clear to you before they were approved. If you fail to pay up, the bank can either increase the interest rate, sell off the collateral or start deducting from your account.
Concluding Thoughts
Getting an Access bank loan is now easier compared to years back. There are currently different Access Bank loans with their requirements and USSD code for instant loans you can pick from.
Don't let that business idea fade away because of funds. Do not let that need get the best of you. Access bank is there to support you, visit the nearest branch or dial *901*1*1#!